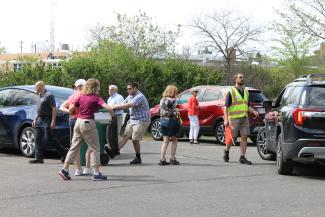 13th Annual Shredding Party a Great Success for Community!
Our 13th Annual Shredding Party, held on May 11th, was a great success thanks to robust community participation and generosity. Schulfer & Associates Wealth Management hosts the annual community service event, where people may bring documents containing sensitive information to be shredded. The shredding service is provided by Express Recycling of Stevens Point. In exchange for the shredding, donations are welcomed with all proceeds benefitting Pacelli Catholic Schools, who has served the Central Wisconsin community for nearly 150 years! Aligned with our shredding theme, shredded chicken sandwiches and shredded potato crisps are sold.
With 2023's contributions of $4,500, collectively over $44,000 has been raised over the years, funding important projects chosen by Pacelli such as a security system for the front entrance of the high school, robotics kits for middle schoolers, playground equipment for pre-schoolers, math materials, new technology equipment, a new software system for the libraries of the schools, and much more. This year, we collected, destroyed and recycled over 10,000 pounds of sensitive information.Cumulatively, that puts us at over 149,000 pounds of documents among the 13 years!
After the documents are shredded they are recycled into some of our most important daily paperwork: toilet paper! Those who bring their tax returns to shred are often delighted to hear the documents' next job and let's face it, there are some things that will never go paperless! Therefore, the recycled product of our shredding party brings the experience full cycle and adds a fun fact to the valuable event. Visit this link for more information on shredding: https://youtu.be/PljyF79cwzY
Thank you to all who came and who donated…. We'll see you next year!
LouAnn Schulfer is co-owner of Schulfer & Associates, LLC Wealth Management and can be reached at (715) 343-9600 or louann.schulfer@lpl.com www.SchulferAndAssociates.com
Securities and advisory services offered through LPL Financial, a Registered Investment Advisor. Member FINRA/SIPC.